Galleries

Stats
All images in Gallery

5350

All Categories

150

All hits just in Gallery

697943
Statistics
Users :

4

Articles :

2123

Articles View Hits :

2413380
Google

Page Rank
Cartoon World (Important News)
12th tabriz cartoon festival /Iran 2013
Subject :Culture
Size: The cartoons will be drawn up to 25 x 35 cm sheets maximum.
The cartoons will be
Post : Iran- Tabriz-Golestan garden-Art Home-Tabrz Cartoon Musem Deadline :2015/2/20
The cartoons will not be returned back, irrespective they are awarded or not.
Digital cartoons are acceptable.
The contestants are required to provide their IDs complete with the name, surname, address and telephone information
Technique: Colored or black and white.
Max: 5 cartoon
Prize:
1-Prize: US$ 1000
2-Prize: US$ 750
3-Prize: US$ 500
5 Awards to adults and 18 Year Old Cartoonists and Students
1. Theme: ''Soil pollution and sanitation''
2. The number of entries is limited to 5. Any kind of graphical technique will be accepted, including 3-D works. Digital artwork is preferably printed by the artist, in order to present a suffi cient high quality work to the jury. They may not have been exhibited or published before.
3. The works have to be sent to the following address: EURO-KARTOENALE WAREGEMSESTEENWEG 113 B- 9770 KRUISHOUTEM – BELGIUM

This email address is being protected from spambots. You need JavaScript enabled to view it. This e-mail address is being protected from spambots. You need JavaScript enabled to view it Our website will inform you if your works have arrived. The list of participants will be updated every day.
4. The drawings shall have the following dimensions: 210 x 297 mm (A4) - (8.268 x 11.693 inches). The drawing must bear, on the reverse side, the surname and forename of the participant, for 3-D entries at the bottom of the work. The drawings shall not bear subtitles.
5. By participating, the artists authorize the organizers to publish the submitted works in the catalogue and for the promotion of the exhibition.
6. The following prizes are awarded: 1st prize: € 1.600,00 + trophy 2nd prize: € 1.400,00 + trophy 3rd prize: € 1.200,00 + trophy Prize of the ECC: Personal exhibition in the ECC Prize of the EU: € 750,00 Best Belgian Cartoon: € 750,00 On the occasion of the prize-giving, the winners are invited for a stay of 3 days. 7. On request the participants get a free catalogue. However, the postage costs are for their own account (for participants who do not reside in Belgium using 6 coupons international reply). These coupons are available in your local post office). They can also collect the catalogue at the European Cartoon Center. 8. By participating the artist lends the submitted works to the organizers for itinerant exhibitions. Consequently, the selected works will remain at the disposal of the organizers until December 2015! The awarded works will become property of the organization. 9. The entries will only be sent back by the organizers on written request. 3-D works can be collected at the ECC in the course of 2016. They can be sent back on written request, the postage costs being in this case on the account of the artist. The organization can in no way be held responsible for eventually damaged or lost works. 10. If after announcement of the prizes, it appears that plagiarism has been committed, the jury can after deliberation withdraw the prize. 11. The international jury consisting of cartoon professionals will meet in Kruishoutem on the 27th of January 2015. 12. The inauguration and awards ceremony will take place on the 28th of March 2015. The exhibition will run from 29th March till 20th June 2015. 13. DEADLINE : 20th of January 2015 ! Consult here the pdf of the rules and the entry form
Rose and Birsen
Birsen (name of a woman) In Turkish: Bir means one and sen means you. Mohyeddin Koroghlu while he had a cup of tea in his hand, beck on with his finger to his wife said these words: " Bir" …. "Sen" . In persion it means " just you". Resturant was gloomy and sure that Birsan had heard this word again and again but when she heard it again, crowed like us.we were going to the Birsan,s tomp with Aytak, Mohyeddin`s son,Turkey`s famous cartoonist. Birsan Koroglu died in the last day of the year .The day in which people thought it is the last day of the world, 30/12/2012. Mohyeddin sits in the bucket seat then I said: We are not happy in Istanbul any more because of Birsan.I remember in all last ten trips to Istanbul we were Birsan`s guest at least for one time or in the cartoonist`s party Birsan made us happy. I asked them to stop the car till I buy flower.I bought a bouquet which was so cheep .Their tomp are not from stone.They are like small garden and around of them is from stone.when we got out of the car,we passed among the trees and tombs and went to the Birsan`s tomp.The tress were full of fruits, apricot, glum.I was humming khayam`s poem.The same day that we got out of Tabriz my older uncle died too, in his funeral I was thinking to what he always said,that one day we will be like apricot and black cherry.Now how meaning full are these apricots and how are they talking to us and how do they want to listen to us.Rose know nothing about her friend`s death but when she came to her tomp and saw her photo, started to cry that made all of us crying, even koroughlu he was crying silently.we prayed for the dead and Mohyeddin said: Rose , I hope you ` ll always be with us.I said,I think it`s not important how long she will be with us, I hope she , II be happy like Birsan.we put the flowers there but Rose left us with crying eyes.Kamil Yavuz was waiting for us in his atelier.The man who could establish a three floor school of art in a city like Istanbul by his intelligence. He was decorated as I like and taught to the interested children.Darko from Montenegro was there.Because the time of teaching is long so kamil yavuz was entertaining his students with different kinds of edibles.I drew Darko`s ,Mohyedin`s, Aitak`s and Yavuz `s student`s cartoon.while I was drewing I heard one of the student`s parents that were talking with each other saying: " No , wait.I found him a very skilled teacher".Rose was teaching cartoon to a 3 years-old girl and his father was listening to Rose.Despite me kamil Yavuz is patient and serious and he teachs a lot that remembers me,my last 20 years.last 20 years I cared about all my student`s drawing one by one.Kamil Yavuz was surprised when I said I have 1500 student in my schools of art. In fact I should say that our fees are cheaper than here.We will go to another party in the evening with Kamil Yavuz and his wife. Mostafa, cartoonist of republicanism newspaper, and his wife and koksal, the famous cartoonist and the best researcher of Turkey with his wife.Koksel has 60 years old and he is very interested in his persion language class. He asked his questions and I helped him. Koksal is interested to teach Ebru in Tabriz which is a very beautifull art.
Rose started to drow ladies cartoons and they were so excited when they saw their own cartoon. Nouray, Koksel`s wife, is a famous painter started to paint Rose`s picture.The ladies bought gifts for Rose and I thanked them.Turkey`s goods are in high quality that every body enjoys buying them. We were invited to other parties that one of them was Mr.Ardoghan`s paty.I couldn`t belive he is 82 years old and he was secretary of fair play contest.First time I met him in the Turkish`s National olympic Committee he said with sincerity: "Rahim welcome Turkey." I thought he was 60 years old,I really appreciate his energy.In judgment he said the comments of committee accurately. He has knowledge about cartoonist.He is very regular and serious.In dinner time he told a story about Jafar Zourlu,who was died,and about other cartoonist. Mahdiyeh was testing the foods, after eating one of them.She found it is made by octopus meat. And about the Rejidens hotel……. Marino said it is one of the best hotels in the world. Double- decker hotel for the famous people …….. it is romantic and unique. In front of our room`s terrace there was a smart spout that was arranged by a music player and the sea was back Of it. I appreciate clean liness, beauty and the services of the hotel.I appreciate Mr. Yavuz and Mr. Ardoghan for their respect.when I was at the hotel I controlled my school of art through the webcams but the last day my wife and Yavuz didn`t allow me to do this beacause of my long time work. By the internet.The other sight seeing was visiting the biggest aquarium of the world. I really appreciate it`s designers.Kamil payed the ticket for koksel, Drko,me and my family. There was a big store that the tools for sea was sold.Yavuz and Darko bouht expensive dollars for Rose. It was an interesting experience.. In the judgment of fair play, arbitrators looked each of the cartoons one by one and everyone chose his favorite cartoon. Then they vote for it. After discussion between the arbitrators, the first was selected. like other judgments there were so many discussions but Mr .Ardoghan solved them by his democratic character. Yavuz had canceled all his plans and he was with us in our stay. He took us to his home. He has relationship with the world`s cartoonists. I thought that I was the best host for 70 famous foreign cartoonists in Tabriz.But after visiting Yavuz I changed my mind.I appreciate all of my friends especially Yavuz for the beautiful trip and visiting Darko who gave me advantage ous information about art and cartoon.
Writer: Rahim Baghal Asghari Transleted by: CWN/Vahide Azizkhah Type:CWN/Haniyeh Purnagi
IVAN HARAMIJA HANS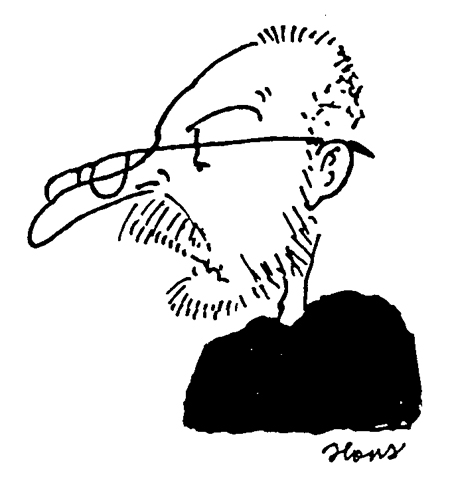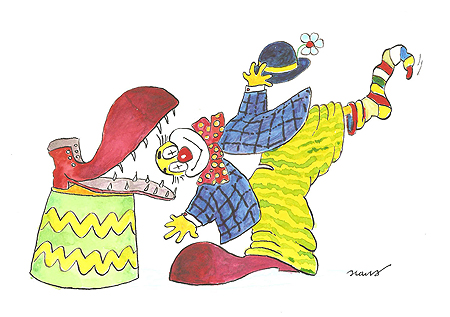 First prize :Angel Boligan Mexico
Second prize :Alex Pelayo Chile
3rd prize :Mehdi Azizi-Iran
Selected:Mohamd Bagher Ranjbar-Iran
Selected: Pezhman Alipour Iran
Selected: TaherShabani-Iran
Selected:Kazanesvky Vladimir-Ukraine
Selected:Ehsan Ganji-Iran